Welcome To Mick's Pest Control: Top Class Pest Treatment Team In Hobart
Mick's Pest Control is a leading provider of pest prevention and control services in Hobart. As one of the best pest control Hobart companies, our elite experience and skills are unbeatable. We provide pest control for Hobart spiders, rats, fleas, possums, silverfish, cockroaches, termites, moths, birds, wasps, bees, etc.
Moreover, our pest control Hobart team follows personal approaches in doing services. If your property has pests and you want them to leave for good, you must call a professional pest controller. We provide fast, professional, and reliable services to get rid of all pests. In choosing us, we offer you a pest treatment right, the very first time.
Furthermore, we not only prevent current pest nesting but also offer you pest protection barriers. All we want is to protect the hygiene and health of your pets and family. For this, we make use of organic and safe methods that are valued for money options. Our services can help you prevent pests for months & years. For bookings, directly ring us at (03) 6351 9890.
Mick's Pest Control Is Leading Hobart For 20+ Years
Our company is famous for the best pest control in Hobart. We have been proudly serving Hobart for 20-plus years. We have been this long in the pest control industry because of our kinds of solutions for pests, including heat methods, fumigations, baiting, trapping, etc. We keep on updating ourselves with time and give clients the best that they deserve. You can call our pest control Hobart western suburbs team anytime. We cover all aspects of pest controls.
Being a locally-based company, our staff is well aware of all the pest types, their behavior, and lifestyle in Hobart. And this is why we can help you fight pests in all seasons. Not just this, on scheduling us our experienced pest controllers assess your property thoroughly for pests. And then only give you a tailor-made pest treatment. So, be ready to get served by experts & appoint us today.
Hire Us To Get Full Pest Management Service: Including- Pest Inspection, Control Method, Removal, and Prevention
On scheduling a pest control booking with us, our pest control Hobart team assures you of the elimination of pests. We begin the service by asking you the most seen spots of pests, and damages done by pests. After analyzing the situation, we provide you with a full pest treatment method. It can be a set of baits, spraying, fumigation, fogging, or heat methods.
No matter whatever method we apply for removing pests, it is pre-tested and humane. After the treatment is done, we look for pest signs if any. Then finish off the service with cleaning the pest wastes and sanitizing. Also, we provide dead pest removals. Our professionals end pest elimination by giving you reports & a few pest prevention tricks and tips.
We are Affordable Pest Controllers In Hobart: Receive A Budget-Friendly Experience!
Do you consider DIY pest removals cheaper than hiring professional pest removalists? If so, then you may be wrong. With us, you can get a cheap pest control Hobart service that meets your needs in the right way. Our focus is to provide Hobart people with pest-free premises by asking for low prices from them. You can be our customer too.
We offer high-quality and cheap rates treatments for pests. Also, our company is popular for being one of the oldest and cheapest providers of pest controls. Whenever you wish to have customized pest control, we can be the best option. Just discuss your particular pest control wants and we will develop a treatment accordingly. So, get set for a pocket-friendly and quick pest treatment service & choose us!
Home Pest Control Services Hobart
If you have a residential property in Hobart that has been affected by pests and needs control service, call us. Our company has been the best provider of domestic pest control services Hobart-wide. From pre-purchase inspection, and end of lease of the rental home to common pest treatments, we do all. You can count on us for reliable, on-time, and affordable residential pest control in Hobart. Also, we make use of non-toxic, neutral pH and organic sprays for pest treatments. Moreover, each property is different and asks for separate pest solutions. So, instead of trying pest removal by yourself, gain access to our elite and inexpensive pest control service!
Commercial Pest Control Services Hobart
We have an increasing number of clients that are business holders in Hobart. The fact is more pests are observed in business places in Hobart than homes. We as a local pest control company offer top-quality commercial pest controls. Our commercial pest control is given to almost all business premises. Whether you require spider pest control in hotel rooms, rat pest control in cafes, or any pest extermination in hospitals, workplaces, manufacturing units, or shopping centers. We can help you save your business space from pests! So, seek our professional pest treatment for your business location at any time.
Termite Pest Inspection & Treatment Hobart
We understand termites are trouble for all Hobart people. Therefore, we have come up with an elite termite pest control service. Our termite exterminators and inspectors are well-learned and polite. On receiving a confirmation booking from your side, we show up at your doorstep in no time. Also, we inspect, detect, treat and prevent your premise for termites, professionally. Being friendly in nature, you can share all of your specific termite control needs with us. Also, our professional termite controllers provide an additional timber termite protection service that acts as a shield on your wooden goods against termites.
Round the Clock Emergency Pest Control Solutions In Hobart
We stay active at work 24 by 7 for emergency pest treatment services in Hobart. As pests can put you in trouble without knocking, we are here to help you out. Our emergency pest control is one of a kind. We charge an affordable rate for both same-day and emergency services.
In addition to this, we also provide you with a relaxed state of mind when we serve. Our pest control vans and experts stay well-equipped and on toes all the time. Also, our treatments are quick and give immediate results. So, if you want to get a time and money-saving service for pest control, book us any time!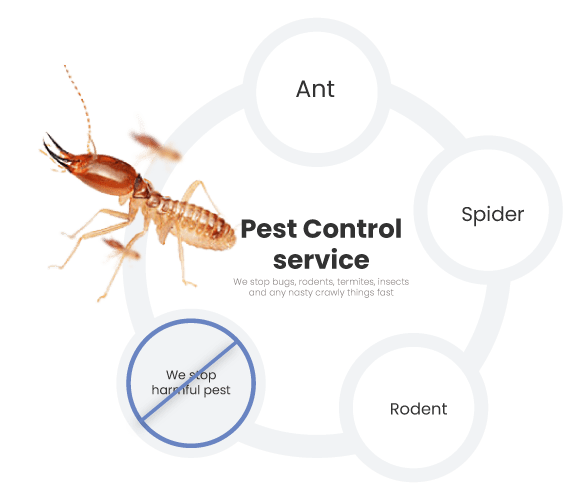 Advantages of Calling Us For Pest Control Services
We are a professional, affordable, and well-known company for providing pest treatments in Hobart. Also, we never fail to impress our clients with numerous advantages, like:
We offer you on-time services. We value time & deliver quick services.
Our company fulfills individual pest control needs & offers customized services.
We are fully licensed, and insured and have certifications in pest management services.
Our company has been locally based & operated for 20 years.
We utilize sprays and pesticides that are eco-friendly and safe.
Our Affordable Pest Control Services
You Can Now Avail Us in All Areas of Hobart
You just share your address and pest treatment needs and we will give you a fast-responsive service. Our company serves 1000s of clients each year from all corners of Hobart. We serve locations like Cambridge, Geilston Bay, Park Grove, Old Beach, and much more.